One particularly large group is that of unaccompanied minors, who are detained alongside adults for lengthy periods of time, sometimes even when recorded as minors. During MSF's responses in 2013-14, the
teams identified more than 100 young people who were most probably minors wrongly registered as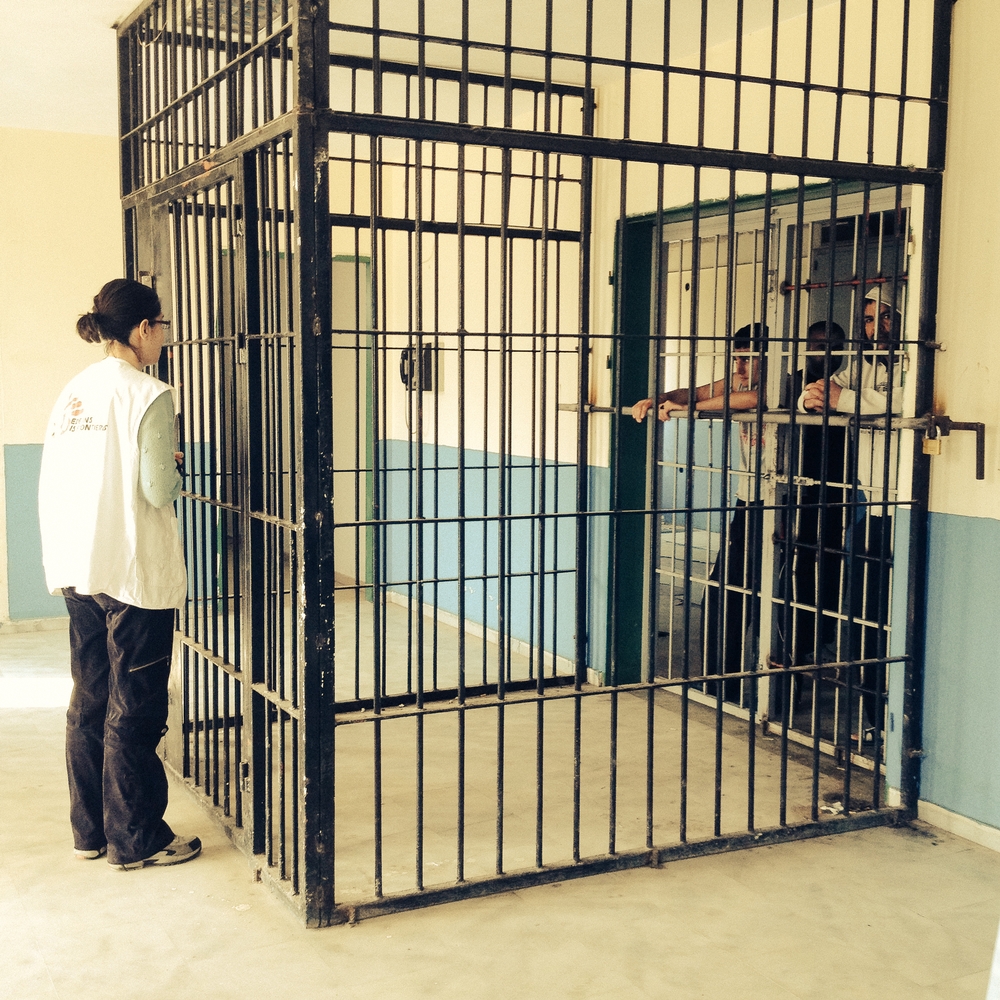 Several had documentation from their country of origin proving their age, although this had been
disregarded by the police. Some said they had initially concealed their real age, thinking that they would be
released sooner if they claimed to be adults; others had no idea that the police had registered them as
Introducing a vulnerability assessment system – in particular an age assessment procedure for people with the appearance of minors – during the apprehension and detention process, and sensitising
police officers are both urgently needed. (Such a process was introduced recently in the 'first reception'
The current practice of the police is to refer people claiming to be minors – in many cases after long
delays – to local health facilities. However, the absence of a protocol and of medical staff with the
right training and expertise renders this process highly problematic. In MSF's experience, few of the
young people referred for an age assessment by the police – after having already spent several months in
detention – were declared minors. Most continued to be detained, even though many received inconclusive medical assessments (for example that their likely 'bone age' was found to be 18 years). In no case was the margin of error (ranging from two to five years, depending on the method of medical examination used) taken into account by the police,nor was the benefit of the doubt considered in favor of the minor.
This practice leads to children being held in detention, with serious consequences for their health and
wellbeing."Some months ago I asked to be released, because I am a minor. Many people who are older than me have already been released. I asked many times, but they always refused. I got extremely anxious
and was thinking about my family, who I don't have any information about. Since they didn't
want to release me, I thought it was better for me to jump off the roof than to stay here. I broke my
legs. I was taken to the hospital and then back to Komotini detention centre. I was living with pain
on my bed for two months. Now I still have pain in my legs and, when I eat, my teeth are hurting
because I hit them against a wall when I jumped."
16-year-old boy, six months in detention "When the police arrested me, I told them that I am 16 years old, that I am young and I am afraid and feel very bad. I have been in detention now for nine months. Since I arrived in Greece I have gone through and seen incredible things – I cannot believe I have gone through these things. I try to drive out the bad images. I try to suppress these images and thoughts and this effort makes me sick. Many nights I have nightmares. I would very much like you to read my story and to think about how a child of my age, without having done any sin, any crime, can be kept in prison for so long.
I do not know what is to blame: fate, my country, police officers? I wish no one would ever be in this
position. Please think of us."
16-year-old boy, nine months in detentionMSF has raised concerns with the responsible
authorities over the indifference of a system that results in minors – who are not recognised as such
– being held in detention for lenghty periods of time.
However, the authorities have yet to respond with actions to prevent unaccompanied minors from being
detained and to ensure their access to safe shelter, education and protection. invisible suffering report